A  Matryoshka doll is a set of wooden dolls of decreasing size placed one inside another. The first Russian nested doll set was made in 1890 by Vasily Zvyozdochkin (designed by Sergei Maliutin) in the Abramtsevo estate near Moscow. Its creators were inspired by the Japanese doll, Fukuruma, which consisted of 7 statuettes. Maliutin painted the dolls in accordance with his own design. The first Russian nesting doll described a peasant family – a mother with her 7 children. It consisted of 8 pieces. The doll was presented at the Exposition Universelle in Paris, where the toy earned a bronze medal, and just a few years later Matryoshka dolls became insanely popular. Several well-known manufacturing centers appeared in Russia.
The wooden toy was named Matryoshka but there is no information regarding who was the first to call it by this name. Most likely, the name Matryoshka comes from the Russian female name Matriona, meaning lady or matron. This name was associated with the mother of a big family, in good health, and with a large, portly stature. Matriona has a Latin root, Mater, and means "Mother".
The process for making these dolls remains unchanged. Usually the maker utilizes birch wood stock. The wood is kept in the open air for several years to age and season it. The doll blank undergoes over a dozen turning operations before becoming a finished doll.
The most famous styles of Matryoshka were created in Sergiev Posad, Semyonov, Polkhovsky Maidan, and Kirov.
Typically, the outer layer is a woman, dressed in a traditional Russian peasant dress. The dolls have no hands (except those that are painted). Matryoshka dolls were often painted holding baskets of berries, bread, and bunch of flowers. The figures inside may be man or woman; the smallest doll is typically a baby (made from a single small piece of wood that is non-opening). The dolls often follow a particular theme, which can vary from traditional to modern (for example, Soviet leaders).
One of the most famous flea markets is located close to the "second Kremlin" of Moscow. It not only has a great choice of souvenirs, antique, old cameras, and fun stuff from Soviet times, but also an atmosphere of an Old Russian market.
Izmailovo Vernissage is the largest exhibition-fair of items of art, created 25 years ago for artists, designers, craftspeople, artisans.
The complex includes: "Artists Alley", that shows works from more than 100 artists and "Craft Street" with art work and folk techniques by masters of Zhostovo, Palekh, Gzhel, Sergiyev Posad, and Dymkovo. The multi-story complex also includes the Museum of the History of the Russian Navy, the Bread Museum, the Museum of the History of Russian vodka, and Museum of Russian folk toys.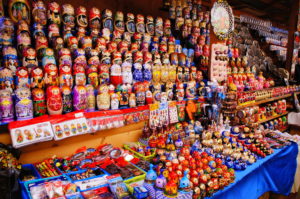 There are endless rows of military souvenirs from of the last two centuries, dresses, kitchen stuff, lamps, toys, samovars, old books and postcards, old coins, masterpieces of wood, leather, stone, bark and fur, carpets and more. … enjoy an enormous number of treasures offered by Izmailovo Vernissage.
It is best to come to the flea market in the morning, while the counters are still full with the most interesting and unique antiques. But you can try and visit it closer to closing time – sometimes sellers will offer really good discounts.
Vernissage is located near Metro: Partizanskaya (Izmaylovskoe shosse, 73zh), Hours:  0900-1800.