Everyone loves to eat, but you can get lost in such a variety of food as in Moscow. On this tour, Moscow opens for you as the capital of delicious food. We will bypass all the expensive untwisted tourist places and go straight to where the locals enjoy their food.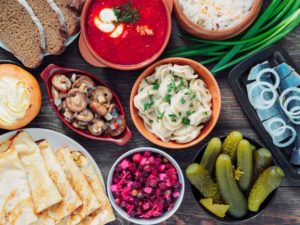 What to expect?
Visit 3-4 places
Places that will surely delight you with taste, design, presentation and atmosphere. You will see the places where locals go to eat breakfast, lunch, brunch, drink coffee, have a bite to eat and meet friends.
Different types of restaurants
It all depends on your tastes. You can make a tour of each of the following types:
 Russian cuisine
 Kavkaz cuisine
Central Asian cuisine
 hipster places, including craft bars and cidreries
vegetarian places and places for those who lead a healthy lifestyle
or a mix of all these places in one tour
During the tour you will learn about the main dishes of Russian, Ukrainian, Belarusian, Georgian and Uzbek cuisine. You will learn what trends in food Moscow has adopted from Europe.
As a result, the gastronomic map of Moscow will become more clear to you, you will try the most delicious and proven dishes.