Facts about Russia
Maslenitsa is an Eastern Slavic folk holiday in Russia, celebrated during the week before the Russian Orthodox Lent. It has pagan roots and it was dedicated to end of winter and the beginning of spring. Traditional cuisine of Maslenitsa is bliny (pancakes). They are round and golden, which symbolize sun.  Consequently, Maslenitsa is also known as Pancake Week or Butter Week.
Like Mardi Gras, Maslenitsa is the last chance to have fun before Lent.
Each day during the Maslenitsa week has its own meaning.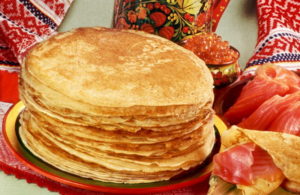 Monday – Greeting
On the first day of Maslenitsa there are family visits. Daughters-in-law visit their parents, and mothers- and fathers-in-law join them in the evening. It is the day when Lady Maslenitsa is made of straw and old clothes.
Tuesday – Matchmaking / Playing
During that day gentlemen are invited to the lady`s houses to eat pancakes and enjoy sledging. Men may choose a bride and marry after Lent.
Wednesday – Sweet Day
On Wednesday the son-in-law may visit their mother-in-law who prepared pancakes and invited other guests for a party. The mother-in-law should show her love and care to the her daughter`s husband.
Thursday – Revelry
It is the day when all the work stops and celebrations start widely. Thursday may be devoted to outdoor activities. The idea of the day is to let go of all the negative feelings, gained during the cold winter evenings. People enjoy snowball fights, fist fighting, sledding, ice-skating and horse-riding.
Celebrations are followed by building a fire; people jump over the fire and sing songs.
Friday – Mother-in-law evenings
It is the evening when mother-in-law visits her daughter`s house and eat her pancakes.
Saturday – Sister-in-law time
It is the day when young brides would invite sisters and other relatives of their grooms. The bride should give a present to her sister-in-law.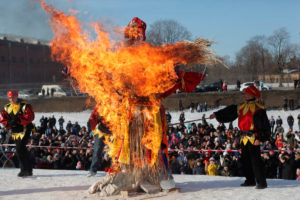 Forgiving Sunday
This day is the end of fun and games. People ice slide, make fires to melt the ice, ask for forgiveness. Everybody asks each other for forgiveness, bowing at his feet. As the culmination of the celebration people burn Lady Maslenitsa, representing winter, to accelerate the spring coming.
The day following the Sunday of Forgiveness is called Clean Monday, because people have confessed their sins, asked forgiveness, and begin Lent with a clean conscience.
Communal apartments came into after the October revolution, when Bolsheviks confiscated private property. Housing shortages were a big problem and the Soviet government solved it in this way: big expensive apartments, previously owned by well-off families, would be divided for people in need.
Communal apartments brought together completely different people. For example, a professor would share space with a cook or a revolutionary soldier. Many noteworthy Russian cultural leaders spent years in kommunalkas (poetess Anna Akhmatova and writers Mikhail Bulgakov and Korney Chukovsky).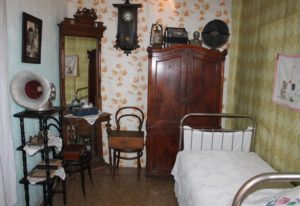 Each family had its own room, which often served as a living room, dining room, and bedroom for the entire family. Other rooms were common (bathroom, kitchen, and hall). Residents had to wait at times to use the bathroom or kitchen sink. Neighbors knew nearly everything about each other, their routines, profession, habits, relationships and opinions. Spying was widespread in the communal apartment. It was not unusual for a neighbor to look or listen into another resident's room or the common room and to gossip about others. People denounced neighbors and told the police in order to try to safe themselves or to gain their room back after imprisonment.
The kitchen was a meeting place where decisions concerning all inhabitants of the apartment would be made. People had to manage communal living, which required shared responsibilities and reliance on one another. Duty schedules were posted in the kitchen or corridors. The family on duty would be responsible for cleaning the common spaces.
Eventually communal apartments were declared ideologically outdated, and a special programme under the slogan "A separate apartment for each family" was launched by Nikita Khrushchev. Communal apartments strongly impacted people, with generations growing up in a very specific, controlled world, where private space was reduced to a minimum. Even today there remains a significant amount of communal apartments in St. Petersburg.