Visa policy of Russia
The visa policy of Russia deals with the requirements which a foreign national wishing to enter the Russian Federation must meet to obtain a visa, which is a permit to travel to, enter, and remain in the country. Visa exemptions are based on bilateral or multilateral agreements. Russia has agreements with scores of countries whose citizens are either exempt from visas or can apply for a visa online (e-visa). Citizens of countries without such an agreement with Russia must obtain a visa in advance from a Russian diplomatic mission or visa centre.
Visa exemption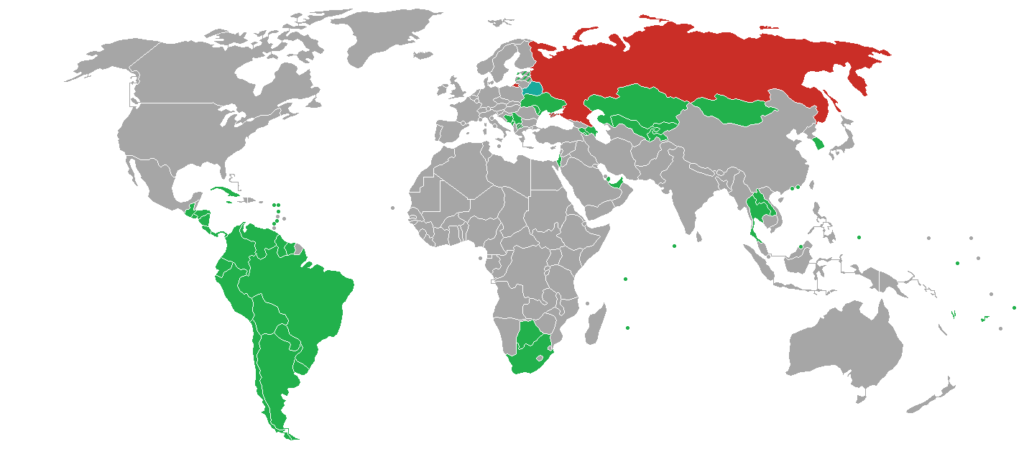 Red – Russia including Crimea
 Blue – Freedom of movement
 Green – Visa waiver countries and territories
 Grey – Visa required for entry to Russia
Unlimited period
90 days
Non-commercial purposes
60 days for non-commercial purposes
30 days for non-commercial purposes
30 days for holders a letter of guarantee/invitation and a tourist voucher
14 days for non-commercial purposes
ID – May enter with a national ID card
ID(KZ) – May enter with a national ID card if arriving from Kazakhstan
1 – 90 days within any year period
2 – 30 days within any 60-day period
Ordinary passports
Travelers who are nationals of the following 60 nations are not required to obtain a visa prior to visit Russia as long as the length of their trip is within the visa waiver limit listed below.
From 2014, citizens of these countries—except for citizens of Belarus and South Ossetia, who have the right to unlimited visa-free entry to Russia—must not stay longer than 90 days within any 180-day period. Resetting the allowed period by leaving and re-entering the country is no longer allowed. Overstaying up to 180 days is punishable by a three-year entry ban, 180–270 days by a five-year entry ban, and over 270 days by a ten-year entry ban.